Do you know cost of in-wall speaker installation in Los Angeles?
Times have changed and so has the preference of consumers. But, one thing that never changes is the love for entertainment. Every person wants to enjoy their free time watching movies or listening to songs they love. This has created a very huge market for home theaters and speakers which are becoming more and more feasible and easy to setup. But, with time, speakers have evolved as well and are now available in multiple options. One such option is in-wall speakers which can work with any home theater setup. Although in-wall speaker installation is not an easy task people are switching to it due to many reasons which we will be discussing in this article.
What are In-wall speakers?
The actual aim of making In-wall speakers was to provide sound in your room without being obtrusive to visitors. A good quality in-wall speaker comes with a decent driver, crossover network; some also come with sturdy enclosures. Do you want to buy an inexpensive alternative for your multi-room audio system? Or, want to install a home theater in your room without affecting the interiors? Then, in-wall speakers are your go-to option.
These speakers are virtually invisible because they fit right inside your walls. In-wall speakers come with paintable grills that can camouflage them from any visitor. In-wall speaker installation doesn't require too much space. And you can place them anywhere inside the wall with ease. Several good quality in-wall speakers are available in the market that is perfect for your in-house home theater setup. Mainly because they provide a much better rear-end surround sound.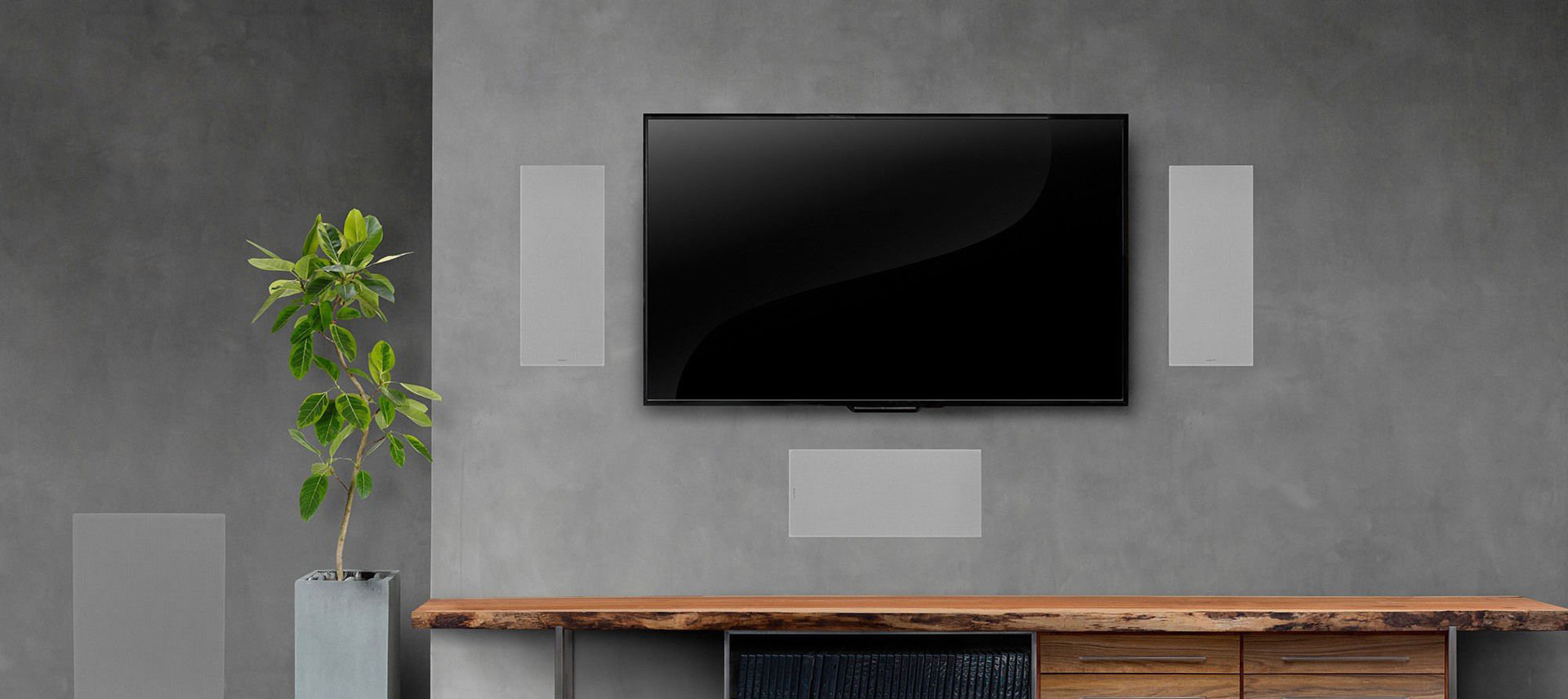 Do they sound good?
You might be wondering, do these speakers even match the sound quality of a general in-room speaker. Well, let me tell you it sure as hell does. These are perfect for your cinema setup as surround speakers or to provide stereo surround. But that's not all. If you know or if you consult a good professional, you can get optimum audio output for your room without even wasting space on speakers. In-wall speakers are also great for home theater setup. You can place them on the left, right, behind, and also on the sides of your screen.
The only drawback here is that the sound output might not be as spacious. This means if you install less number of in-wall speakers in a large room, the sound quality might decrease. But, if in-wall speaker installation is as per your room's requirements then you will never face any such issues.
Things to consider before in-wall Speaker installation?
Before installing, be clear that you are 100% sure to install. Because in-wall speakers are not easily replaceable. Now, let's jump right into the things which you should consider before installing in-wall speakers.
Most of the things we install inside our walls are immovable. But when you play music, speakers create vibrations and oscillate. So, it's extremely important to get a sturdy clamping mechanism when you install them. Otherwise, this will cause drywall with dust falling from all of its cut-outs.
Another basic but mostly overlooked tip before you start your installation is turning-off any breakers connected with the wall you're about to cut open. If you have multiple wires running down that wall it's best to turn off all such breakers.
It's very important to check whether there is enough space in the cutout for your speaker to affix without touching pipes or wires. This will greatly benefit your setup in the long-run.
When you're installing in-wall speakers it's very important to align them properly. This will also increase the overall quality of your setup. If you have enough space in your room try to create an equal distance between the speakers. The best placement strategy could be a triangular setup which will allow you to create the best stereo setup.
In-wall speakers require perfect cut-outs as they will fit right in. This means if your cut is even slightly off it will not fit perfectly which will be visible even after you paint them. It's best to take professional help for In-wall speaker installation which we will discuss shortly.
Another basic but forgotten tip is to test all your speakers before you fixate them. As it's easier to know and rectify any errors before you put them inside the walls. Because, if it's inoperative after you complete the installation it will be very difficult to replace.
Is in-wall Speaker installation difficult?
Well let me make this clear, if you are an amateur in performing hardware-related works then you should not consider doing it yourself. Anyone who has not done heavy-duty home works is not cut-out for this job. The installation will require you to cut walls with a saw while making sure you do not cut pipes or studs. If they are in your way you will have to go around and drill through your fire breaker and then move forward. Overall, it's a tough job suitable for trained professionals.
How much will in-wall Speaker Installation cost?
The average cost of good quality in-wall speakers is around $80-$100 per piece. So, if you decide to purchase a set of 6 then the total cost will be around $480-$600 based on your choice. Whereas the average installation cost will be around $350 to $500 depending on the workers you hire. This will involve all the pre-requisite works like planning, cutting, drilling, wiring, testing, etc. You will also need some extra materials like connectors, fasteners, etc. which will cost around $100. So the total cost of a good quality long lasting in-wall speaker installation will be roughly around $800 to $1000.
Need Professional help?
If you don't have experience in performing heavy-duty home improvements or if you want professionals to ensure proper in-wall speaker installation, don't worry. LA Smart Home is here to help. Although while choosing speakers, your ears will be the judge, your pocket will be the jury and that is the type of ideology we follow. LA Smart home provides you with the best home theater setups that too at reasonable costs. So, if you want a high-quality home theater experience equipped with in-wall speakers contact us now and let us handle the rest.