H
ow to Mount TV on the wall?
Wall-mounted television sets look extremely elegant and add extra charm to your family room. And in the past few years with the advent of sleek television sets more and more people have mounted their television sets directly on the wall. It has automatically reduced the need for certain furniture. And in all honesty, it looks amazing.
Wall mounting your television set might not be as difficult as you think. And wall mounting your television does come with certain advantages. For instance, you get an amazing angle to watch your favorite game. And there are minimal chances that you would accidentally knock it over. Let's be honest- Accidents happen!
If you have bought a new television and desire to mount it on the wall, here are some tips to help you through.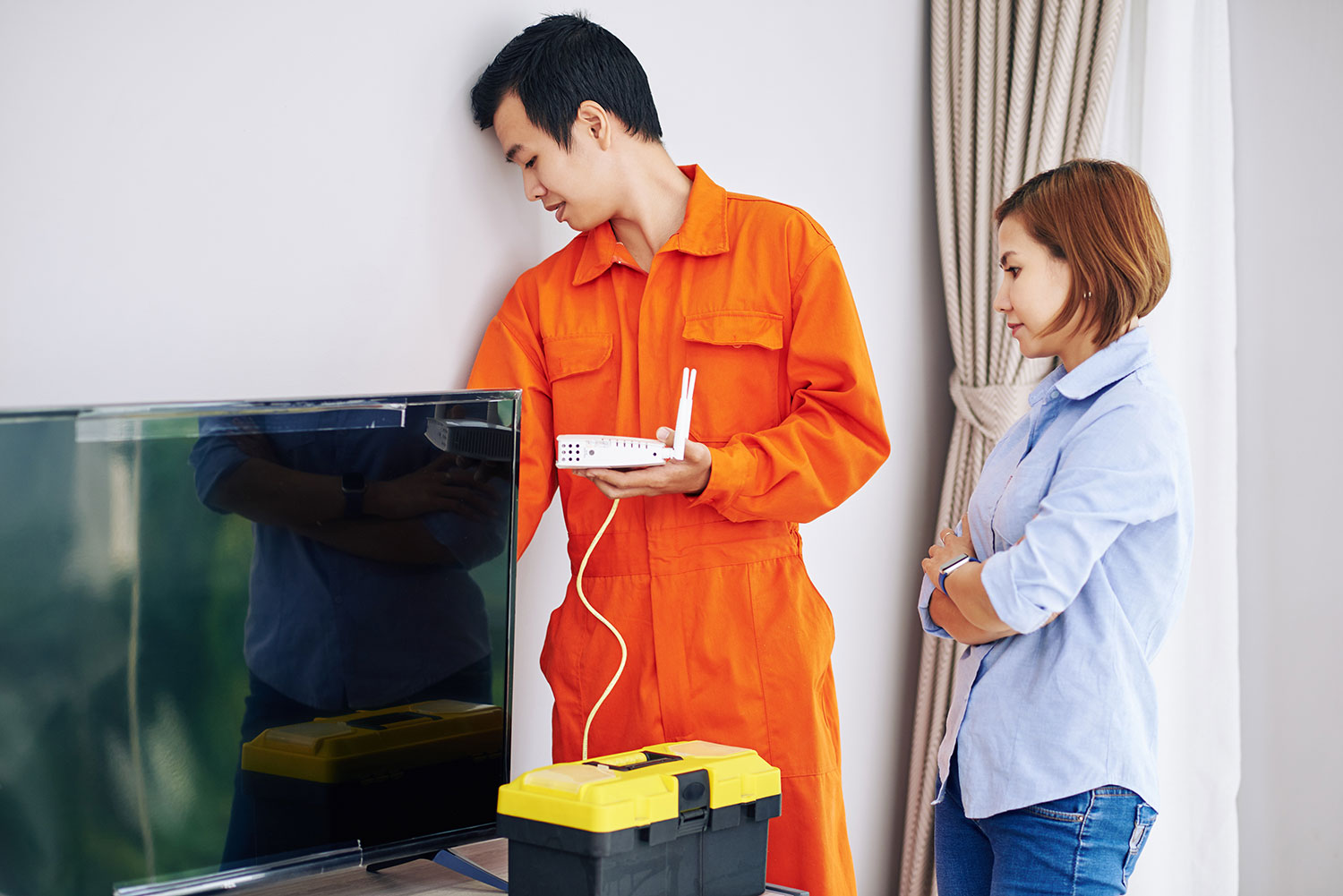 Gather your tools
The first thing you need to do is to gather your tools. You are likely to find these things in your home. In case you don't, visit a hardware store.
Stud Finder: A stud finder is a simple device that is used to locate framing studs behind the drywall. Why is it important? Using a stud finder you can pinpoint the correct location to mount your television. It is best to mount your television on a stud instead of the drywall. The stud is likely to provide additional strength and minimize the chances of an accident.
Power Drill: You would need a power drill. In case you don't have a power drill, feel free to use a screwdriver. But a screwdriver will massively diminish productivity and slow down work.
Drill Bits: There are various kinds of drill bits available in the market. You will need Carbide-Tipped masonry bits and Head drill bits. Carbide-tipped masonry tips are needed to make pilot holes in your drywall. In these holes, your mounting screws would be drilled in using the Head drill bits.
Level: A tiny mistake and you would end up mounting your TV at an angle. And your family would be furious at you. Can you handle that? The constant pain in your neck induced by the angled television? It is best if you use a level to ensure that there is no room for error. Using a level will not only speed up work but also make sure that the result is up to mark.
TV Mount: You need a television mount which is going to support your television. You must understand that you cannot use just any TV mount. Every television set has a compatible model and you need to use that. If you don't know which TV mount to use, you can go through the television manual. Your TV mount must contain information regarding VESA mount measurements. Get a TV mount according to this.
These are most of the tools you would need to mount TV on the wall. It is best if you have a companion to do this with.
How to mount your television on a wall?
Follow these steps to wall mount your television:
Decide on location and height: Proper planning is the basis of anything. So save yourself some extra work and do some planning before you start drilling holes in walls. Pick a location that is close to power outlets and cable sources. It should also be easy to connect speakers and other accessories to your television set. It is best if you mount your television right above a shelf, that way you can store your gaming consoles and cable boxes and use them whenever you desire.
You need to find a decent stud to mount your television. So, Another important thing to note is the height. How high should your television be mounted? You can use a cardboard cut-out of approximately the same size as your television. Position it on the wall and ask your family members to determine the best position.
Locate Studs: Use the stud finder to locate studs behind the drywall. Use a pencil or some sort of temporary marker to mark down the location of the studs. Most television wall mounts are designed for two studs. But there are some which only need one stud. Make sure you know the requirements beforehand.
In case you are mounting your television on a brick wall, you don't need to find any studs.
Mark Pilot Holes: Mark the pilot holes using a pencil. So, Use a level to ensure that the pilot holes are at the same height. Make sure that you measure the distance between the top and the bottom holes. This is the most crucial step. Any mistake and you would end up with either a crocked television or unnecessary holes in your wall.
Position the wall mount: Once you have marked down pilot holes, hold up your TV mount and position it properly. You can use a level to adjust the positioning. Once you are satisfied, use a drill to make pilot holes.
Attach the wall mount: Place the wall mount against the drilled pilot holes and screw it in. It is a two-person job, so you better ask a family member or friend to help you out. Make sure the holes are aligned before you start screwing in your wall mount. If you are not satisfied, use a level as often as you want.
Mounting Plate: Once you have screwed in the mount on the wall, it is time to attach mounting plates to your television set. This step varies with different television sets. The kind of television set you have determines the kind of mounting plate you need to use and how to use it.
Mount your TV on the wall: Make sure that the mounting frame is sturdy before you mount your television on it. Once you are sure, take help from a buddy and mount the television set on the frame. Do some quality checks after you mount your television on the wall. This minimizes the possibility of accidents.
Just follow these simple steps and you will have your TV mounted on the wall in no time. Make sure to conduct a thorough inspection of the wall before mounting your television. Here are some other articles for you to check out:
Automated Shading System Everything you should know