Lighting Automation & Control by Lutron
Smart home automation has become very essential nowadays. Mainly due to companies like Lutron working day and night to make lighting control cheaper and more efficient. Lutron provides us with extensive control over all the lights present in the house. And with Lutron's automation solutions, buyers no longer need to purchase a separate smart bulb. All they have to do is install the necessary equipment and they are good to go which is not only cheaper but also offers much more productivity.
What is Smart Home Lighting Automation & Control?
Lutron's Smart home Lightning Automation & control devices let you control every light connected to the device. So, if you want to control the light of your house without investing heavily in smart bulbs, Lutron offers smart switches that can control and automate any light you connect with them. With these switches, you can even convert a normal lamp into a dimmable lamp without wasting so much on buying one. You can easily install Lutron devices and connect bulbs and other lamps to them. With this, you can control all your lights from anywhere in the world with the Lutron app.
Lutron is also one of the leading manufacturers of smart home automation goods. It has an extensive range of lighting solutions that are compatible with more devices and with smart home control when you compare it with other similar brands. With the help of Lutron's smart switches, you can now convert and control normal bulbs smartly without any hassle.
Why should you use Lutron's Automation and Lighting Control?
There are many reasons why you should be using Smart home lightning automation & control rather than a regular system.
Smart lighting offers you much better control and accessibility to your light system. You can easily control all your lights from any part of your house.
With smart home lighting solutions, you can easily control lights from your smartphones even if you're not in your house. Regular lighting systems can never provide such control.
Another productive feature you get is scheduling which allows you to schedule your lights as per your preference when to turn on or off.
Smart home lighting automation & control offers you an option to change lights as per your mood or the activity you want to perform. Like if you want to watch movies or play games you can dim your lights with a single tap.
You can integrate them with your smart home hub which controls all the smart devices present in your home. This allows you to control and set-up complex multi-level automation which can be event-based or need-based.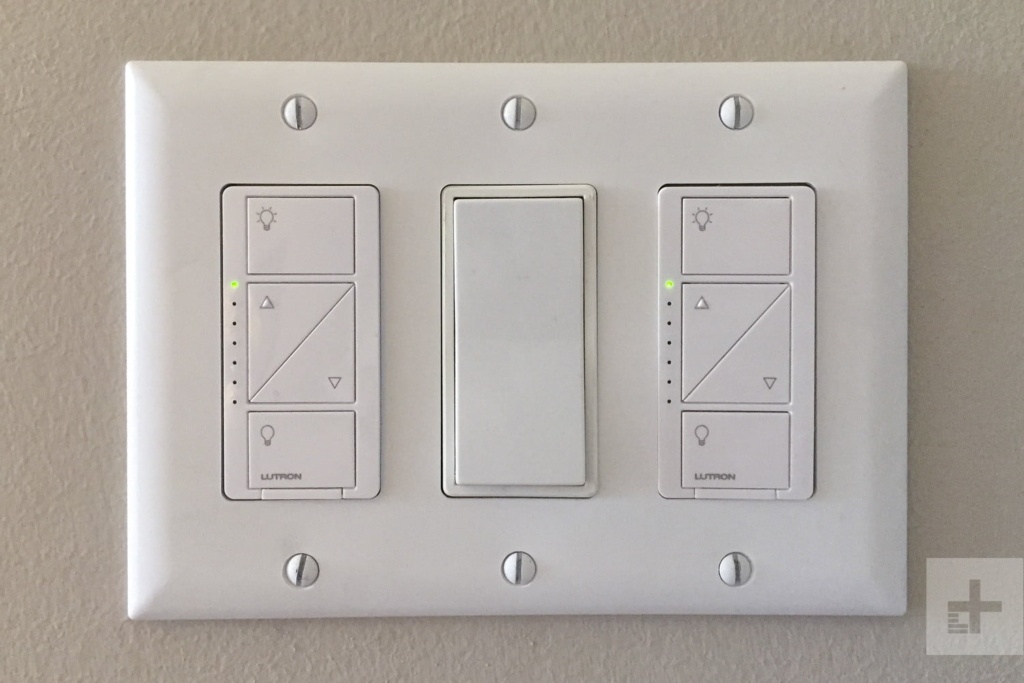 How does Lutron's Smart Home Lightning work?
Lutron's smart home lighting automation and control system uses smart switches to convert and connect lights into its smart home environment. There are multiple Lutron smart switches available in the market like Caseta, etc. Although, most of the smart switches of other brands use radio transmitters that connect to your Wi-Fi network for providing wireless functions.
On the other hand, Lutron switches use a patent "Clear Connect" protocol which operates on a low radio-frequency. This eliminates any possibility of a hindrance to your wireless connectivity. It uses a bridge which works as a translator to maintain the connection between your home network and the switches.
Benefits of using Smart Home Lightning
There are tons of benefits if you choose smart home lightning solutions over any regular light system. But if you are still in doubt whether to get Lutron's Caseta Switches or not, don't worry. Below are some of the things you should know before making your decision.
Smart lighting provides much better management hands down. If you compare it with the regular lights or even with dimmable lights, you cannot achieve what you can with Lutron's Caseta. From auto-dimming to event regulated control, these can easily provide you with the best lighting solutions you ever thought of.
Who would have thought they could control lights sitting on their couch with just one click? But times change and so does lighting automation. Smart switches provide convenience and you can control them from your smartphones with ease.
Smart security options are the next big thing in the smart home segment. And when you combine them with smart lighting, you can achieve the best possible security for your house even when you're not around. From motion sensing to automatic light controls you can easily make others think that you're in the house while you're enjoying your vacation on a beach.
You are probably thinking that Smart home lighting automation & control will dig deeper into your pockets with its electricity consumption. But let me tell you it's a complete myth. As per Energy Star's report, normal lights contribute to 12% of your total energy consumption. And one of the leading smart switch manufacturers, Lutron, suggests that a household can save up to 60% by using smart light sensing and control in their house.
Offers more productivity:
Modes like "Geofencing" allows your sensors to react when your smartphone enters its range. And "Smart Away" can set the lights to switch on and off on their own even if you're not in your house, making it look like you are inside. The "Thermostat integration" can also control devices from Nest, or Ecobee directly from the Lutron's app. You get productivity like nowhere else.
Lutron smart switches and automation offers greater value for money. That's not all. They are also compatible with 3-way switches. And you can also pair them with popular smart home platforms like Apple Homekit, Alexa IFTTT, Wink, Google Home, Nest, and Sonos, etc. But on the downside, even if Lutron's Smart switches offer a whole lot of features worth exploring, they are not easy to install. You might require professional experience to get the most out of Lighting Automation & Control by Lutron.
Don't worry. LA Smart Home's lightning automation services offer you just that. With hands-on experience in providing integrated lighting automation to many clients, LA Smart Home will provide you with everything you want. With experience of more than a decade, they are one of the leading Smart-home makers in Los Angeles. So, if you're looking to install Smart home lightening Automation & Control by Lutron, contact LA Smart Home and let them fulfill all your requirements.